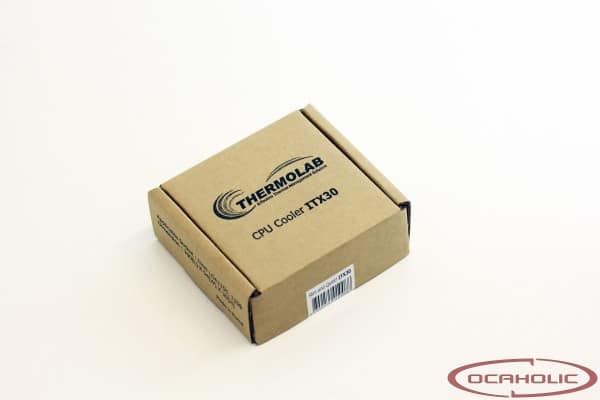 In the past the Korean company Thermolab has been able to surprise with high quality products, which were able to compete with the best in corresponding product categories. With the ITX30 the company has been working on a small cooler for mini ITX builds, like for instance HTPCs, and at a first glance this is a rather interesting little cooler, since it has been made entirely from copper.
Thermolab is one of the companies in the cooler market which is making a nice looking small factor form cooler for HTPC or Steam Box system for living rooms. Meanwhile there are two low-profile coolers and in this review we are testing the smaller one named the ITX30 with dimension of just 100(L) x 94(W) x 30(H)mm. This cooler is tiny and made out of pure copper, which is very rare these days considering that the copper is the best material for heat dissipation and also quite expensive.
As noted earlier, both the base and the heatpipes on the Thermolab ITX30 are made of pure copper. It features two 6mm heatpipes which are not in direct contact with the CPU but have been routed through a copper base. In case of the Thermolab ITX30 you get a low-profile cooler that perfectly suits small-form-factor builds. The heatsink fins are made of copper also. The manufacturing quality is definitely high, which is a pleasant surprise considering that this is more of a budget cooler. A quick look at the base confirms that, since there is no perfect mirror finish. The bundled 80mm PWM fan is quite simple and will not stand out from a pile of standard OEM fans. The height of this cooler is 30mm including the 80mm fan which in total is 24mm less than Intel's stock cooler so we can be onehundred percent sure it fits in every case.
Specifications

Model
ITX30
Type
Low-profile 80mm
Provided Fan(s)
1x 80x10mm PWM
Supported Fan(s)
1x 80mm
Base Material
Pure copper
Fins Material
Copper
Socket Support
Intel LGA 1150, 1155, 1156
Thermal compound
Pre-Applied
Product Page
Thermolab ITX30
Like the cooler, bundle and the box are also quite simple. It is made out of solid cardboard and although the cooler inside is only protected by a bubble wrap our sample arrived without a single dent or any damage whatsoever. The bundled fan is attached to the heatsink while the rest of the mounting components are placed in a separate plastic bag. The bundle includes an installation manual, four screws, four transparent plastic washers, two fan clips, an 80mm fan and the heatsink itself which comes with pre-applied thermal compound.