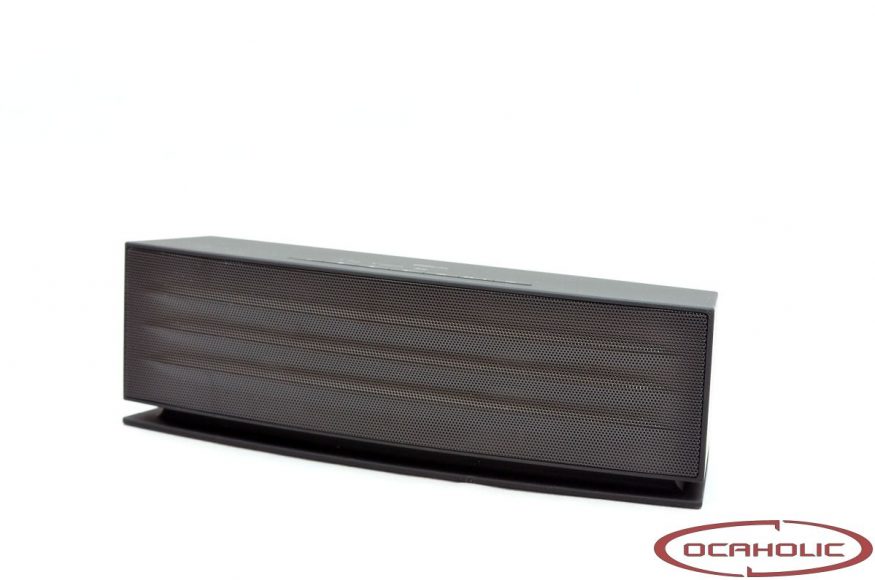 With the Solitune, Speedlink has a portable soundbar in its portfolio for a bit less than 100 Euro. For this price you get an integrated rechargable battery pack as well a good build quality in general. Whether the sound is going to convince is or not, that's for example going to be in this review.
The Speedlink Solitune Supreme is a soundbar which is able to connect to your PC or any other device with the latest technologies like NFC or Bluetooth. Despite the appearance, the Supreme Solitune is a portable speaker thus it comes equipped with a battery.
Specifications
| | |
| --- | --- |
| Model number: | SOLITUNE Supreme Stereo |
| Part number: | SL-8910-BK |
| Connectivity: | USB, Bluetooth, NFC, Jack 3.5mm |
| Output power: | 10W RMS |
| Dimensions: | 34 x 9 x 10 cm (W x D x H), 798 g |
Product overview
Speedlink Solitune measures at 34 x 9x 10 cm (W x D x H) with a total weight of 800 grams. The soundbar is made almost entirely of plastic with black soft touch finish. In addition to the classic power button at the top there are also a few other controls such as volume control, pause and Bluetooth. Regarding connectivity at the back, you get a USB port useful for recharge your device, the AC power jack that will recharge and turn on the soundbar and also a 3.5mm headphone jack. In addition, there is also a convenient button that will allow you to start/end calls, therefore Speedlink Solitune also can be used as a huge speakerphone.
As mentioned earlier, the Speedlink Solitune is equipped with a lithium-ion battery of 1750 mAh which is able to provide up to seven hours of music playback.
Conclusion
We tested Speedlink Solitune with different devices and using all connections which are supported by the soundbar. Reaching a full charge takes about 4 hours and the battery life is about 7 hours, the same value declared by the company. The range is about 10 meters and we haven't noted any problems during daily usage. The audio quality is adequate for this type of product and while using the soundbar with songs of various genre we have to say that audio is well balanced. Overall, the device functioned flawlessly and even the 10W RMS power was more than adequate.
The Speedlink Solitune is available on Geizhals at a price of about €88 excluding shipping costs. In our opinion, the price is in line with competitive products and we appreciate the choice of Speedlink to also equip the soundbar with NFC connection. We only did not like the soft touch surface, as despite the fact that it does add to overall quality of the product it also gets dirty very easily.