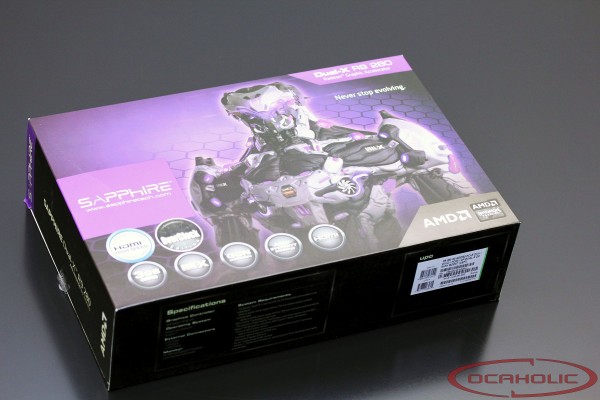 With the Dual-X R9 280 OC Edition, Sapphire has a Radeon R9 280 graphics card in their portfolio, which is based on a custom PCB as well as a custom cooler. Apart from that this pixel accelerator also features an attractive price and therefore we're rather curious to find out what this card is actually capable of.
Today we're going to have a close look at Sapphire's R9 280 Dual-X card, that features a dual fan custom cooler named Dual-X and in case of the PCB there is also a custom design from Sapphire. With it's black and blue color scheme this card looks just about perfect and luckily the manufacturer also decided to overclock the GPU to 940MHz.
Since it is the Dual-X version of the Sapphire Radeon R9 280 OC Edition series, the card features a factory overclock of 7 MHz on the GPU, which is actually tiny. While the reference Radeon R9 280 GPU is set to work at 933 MHz, the Sapphire Dual-X R9 280 OC Edition works at 850MHz for the base clock and 940 MHz for the turbo clock.
Unfortunately, no factory overclocking was done on the 3GB of GDDR5 memory that remains at the recommended 1'250 MHz (5'000 MHz effective).
Specifications
| | | | |
| --- | --- | --- | --- |
| | Sapphire Dual-X R9 280 | Radeon R9 280 | Radeon R9 280X |
| Chip | Tahiti Pro2 | Tahiti Pro2 | Tahiti XT2/L |
| Process | 28 nm | 28 nm | 28 nm |
| Transistors | 4.31 billion | 4.31 billion | 4.31 billion |
| GPU clock | 850 MHz | 827 MHz | 850 MHz |
| GPU Boost clock | 940 MHz | 933 MHz | 1'000 MHz |
| Memory GDDR5 | 3'072 MB | 3'072 MB | 3'072 MB |
| Memory clock | 1'250 (5'000) MHz | 1'250 (5'000) MHz | 1'500 (6'000) MHz |
| Memory interface | 384 Bit | 384 Bit | 384 Bit |
| Memory bandwidth | 240.0 GB/s | 240.0 GB/s | 288 GB/s |
| Shader Cores | 1'792 | 1'792 | 2'048 |
| TMUs | 112 | 112 | 128 |
| ROPs | 32 | 32 | 32 |
| PCB Type | Custom Design | Reference Design | Reference Design |
| Slots | 2 | 2 | 2 |
| Cooler | Dual-X | AMD Reference | AMD Reference |