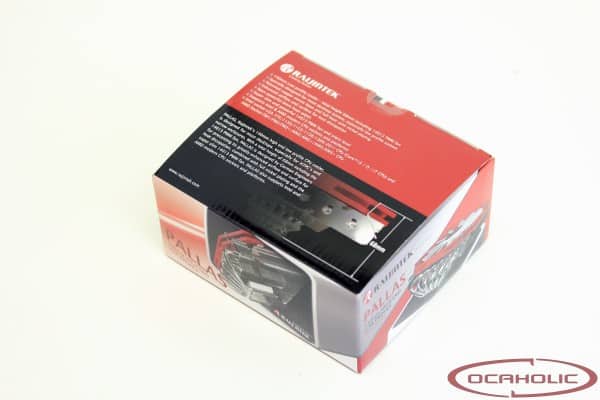 The Pallas from Raijintek is a rather interesting new CPU cooler, that features a low-profile form factor. At a first glance manufacturing quality appears to be on a really decent level and judging by the number of heatpipes used as well as the size of the heatsink, it looks like this cooler could also perform quite well. Paired up with a price that is actually payable we're curious to see what this cooler can do.
Raijintek is one of the new kids in the cooler market but nevertheless with the Pallas they're already bringing the second series of coolers to market. In this case we're looking at a low-profile cooler that features decent manufacturing quality but still comes at a reasonable price.
As noted earlier, both the base and the heatpipes on the Raijintek Pallas are made from nickel-plated copper. It features six heatpipes with 6 millimeter diameter which are not in direct contact with the CPU but have been routed through a copper base. In case of the Raijintek Pallas you get a low-profile, cooler that perfectly suits small-form-factor builds. The heatsink fins are made from aluminum and keeping in mind, this is a low-profile model, the dimensions are still rather massive. The manufacturing quality is definitely high, which is a pleasant surprise in case of a budget cooler. Even the base comes with a perfect mirror finish. The bundled slime, 140mm PWM fan, is quite simple as well and will not stand out from a pile of standard OEM fans.
Specifications

Model
Pallas
Type
Low-profile 140mm
Provided Fan(s)
1x 140x13mm PWM
Supported Fan(s)
1x 140mm
Base Material
Nickel plated copper
Fins Material
Aluminum
Socket Support
AMD AM2(+), AM3(+), FM1, FM2(+)
Intel LGA 775, 1150, 1155, 1156, 1366, 2011
Thermal compound
Raijintek (bag)
Product Page
Raijintek Pallas
The bundle and the box are also quite simple and it almost feels like Raijintek was trying too hard to make an entry-level cooler and not just cut on the cost. The box is made out of solid cardboard and although it is only protected by a plastic shroud our sample arrived without a single dent or any damage whatsoever. The bundled fan is not attached to the tower while the rest of the mounting components are placed in a separate small box on the other side of the cooler. The bundle includes an installation manual, mounting components, two fan clips, a small plastic bag with Raijintek thermal compound, a 140mm slim fan and of course the heatsink itself.