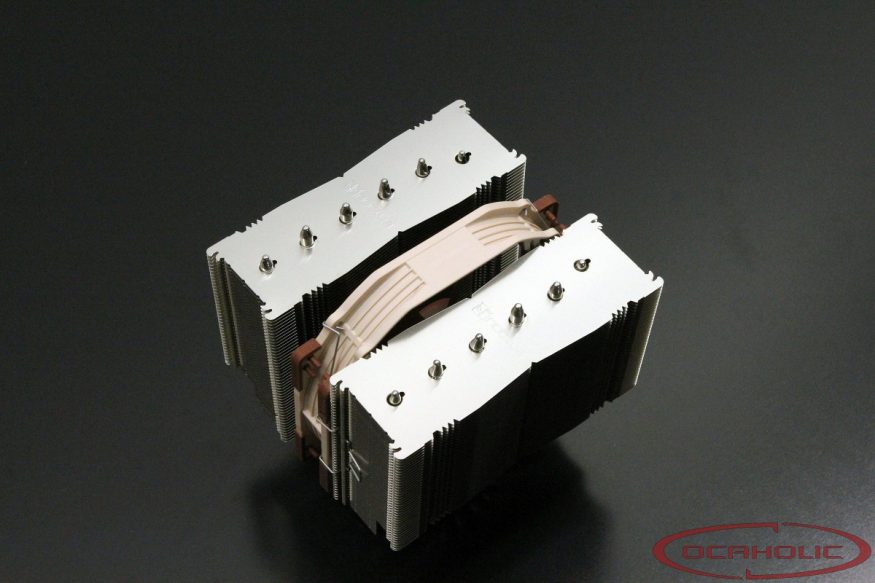 With the NH-D15S Noctua shows its latest high-end CPU cooler. This monster comes boxed with one 140 x 150 x 25 millimeter fan and weighing a massive 1150g. Overall this leaves us rather curious how this twin-tower cooler is going to perform.
Today we are taking a look at Noctua's latest tower CPU cooler, the Noctua NH-D15S. This particular model is based on a twin-tower design. Other than that there is a nickel-plated copper base connected to the heat-sinks via six 6mm cooper-heatpipes. Fresh air comes from one 140 x 150 x 25millimeter PWM fan. With the NH-D15S, like the old version NH-D15 cooler, Noctua makes use of a sandwich construction which means that the fan is located between the two cooling tower heatsinks.
Both the base and the heatpipes on the Noctua NH-D15S are made from nickel-plated copper. It features six heatpipes which are not in direct contact with the CPU but have been routed through a copper base. The Noctua NH-D15S features dual-tower heatsink design in order to have more surface area which in the end usually means better heat dissipation and of course higher airflow efficiency. There is one large PWM fan located in between the two large heatsinks, measuring 140 x 150 x 25 millimeter. When it comes to rotation speeds, max RPM is 1500. Both heatsinks are made out of aluminum and as you can see, it is clear that this is quite a big CPU cooler with dimensions of 150 x 160 x 135mm. The manufacturing quality is definitely on a high level and we honestly did not expect anything less from Noctua.
Specifications

Model
Noctua
Type
Dual-tower
Provided Fan(s)
1 x 140 x 150 x 25 mm PWM, 1500 rpm
Dimensionen
150 x 160 x 135 mm (B x H x T)
Gewicht
1150 g
Supported Fan(s)
2 x 140 x 150 x 25 mm
Base Material
Nickel plated copper
Fins Material
Aluminum
Socket Support
AMD AM2(+), AM3(+), FM1, FM2(+), FM3(+) (backplate required)
Intel LGA 1150, 1155, 1156, 2011
Thermal compound
Noctua NT-H1 3.5g Tube
Product Page
Noctua
The box is made from solid cardboard and although it is only protected by a plastic shroud our sample arrived without a single dent or any damage whatsoever. One of the bundled fans have been attached in between the towers while the second one is in a very nice looking small box. The rest of the mounting components are placed in three separate small boxes. The bundle includes all installation manuals for different sockets signed by Noctua's CEO, AMD mounting kit and the Intel mounting kit, four fan clips (two already mounted), a 3.5g tube of thermal compound enough for 15 applications, one fan and of course the tower heatsink itself.