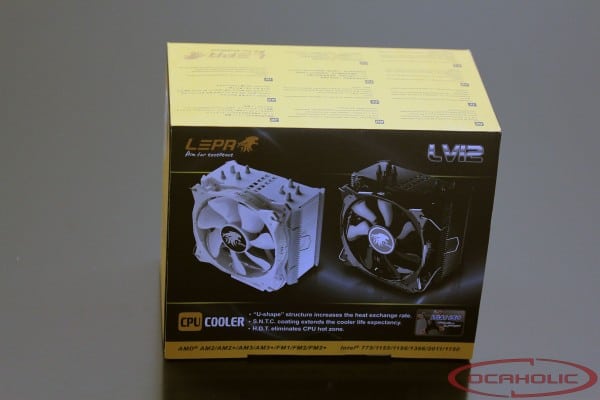 With their LV12, Lepa has a tower-cooler in their portfolio, which catches our attention with its matte black color. Other than that, this neat looking cooler comes with four heatpipes, as well as high quality fan. Apart from that even the price tag is on a very competitive level and it looks like this could be an insider's tip.
Today we are going to take a closer look at the new CPU cooler from LEPA, the LV12. While LEPA made two differently colored versions of the LV12, a white one and the black one, we recieved the the Black version which is technically the same as the white version apart from the different color. The main feature of the LV12 CPU cooler are its four direct touch copper heatpipes.
The base of the LEPA LV12 CPU cooler is made from copper while the heatsink fins are made out of aluminium. It features four 4mm diameter heatpipes which are in direct contact with the CPU. There is no baseplate through which the heatpipes are routed. The LEPA LV12 is a standard tower-design CPU cooler and the overall quality and design are very good as it looks nice and clean. The most unique feature on the LEPA LV12 is definitely its color as the matte black is something we have not seen on a CPU cooler before. Other than the actual color finish, the build quality is also on a really high level, although, for example, the base could have been lapped.
The bundle includes a 120mm PWM fan with a rotation speed of 800 to 1800 RPM.
Specifications

Model
LV12
Type
Classic 120mm tower
Provided Fan(s)
1x 120x25mm PWM
Supported Fan(s)
2x 120mm
Base Material
Copper
Fins Material
Aluminum
Socket Support
AMD AM2(+), AM3(+), FM1, FM2
Intel LGA 775, 1150, 1155, 1156, LGA 2011
Thermal compound
Dow Corning TC-5121(Tube)
Product Page
LV12
The bundle and the box are quite simple. The box is made out of solid cardboard and although it is only protected by a plastic shroud our sample arrived without a single dent or any damage whatsoever. The bundled fan is attached to the tower while the rest of the mounting components are placed in a separate plastic bag. The bundle includes an installation manual, mounting components, two fan clips, Dow Corning thermal compound n.5121 in a small syringe as well as a 120 millimeter fan and the heatsink itself.