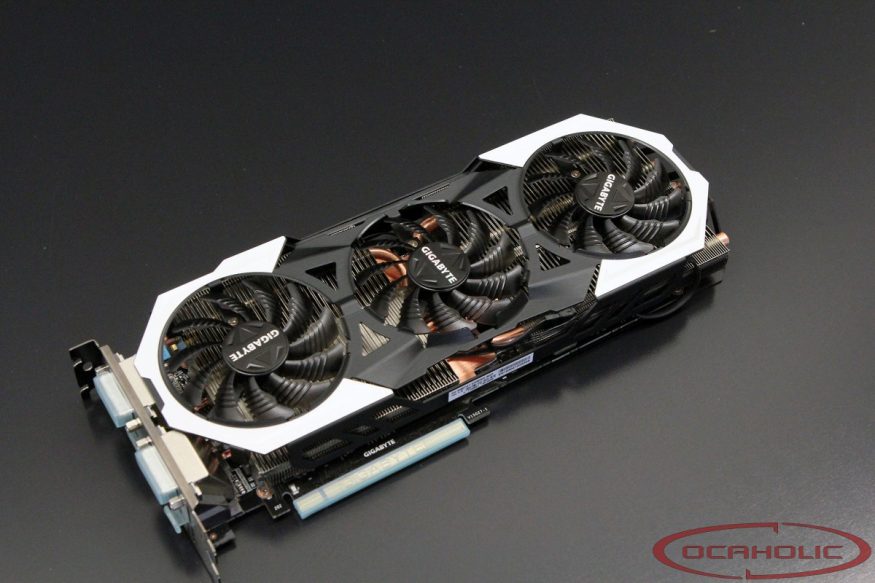 As expected Gigabyte is also amongst NVIDIA's launch partners for their new GTX 980 Ti based graphics cards. In this review we're having a close look at the GTX 980 Ti Gaming G1, which is Gigabyte's flagship model. It features a custom PCB as well as a new version of Gigabyte's semi-passive Windforce 3X cooler. This should be a rather punchy combination, since the card has also received a massive factory overclock.
Gigabyte is amongst the first Nvidia add-in-card (AIC) partners that have decided to introduce a new custom GTX 980 Ti graphics card which is using NVIDIAs latest and greatest GM200-310-A Maxwell chip. For this graphics card, Gigabyte makes use of a custom PCB along with a new version of their Windforce 3X cooler. On the backside of the card, there is a good looking backplate. A quick glance at the specs also reveals that this card ships factory overclocked.
Browsing the specifications of this card we find 2816 CUDA cores, 176 TMUs and 96 ROPs. For comparison reasons, the GTX 980 features 2048 CUDA cores, 128 TMUs and 64 ROPs. This means that, compared to the smaller model, there are significantly more CUDA cores, TMUs and ROPs. Looking at the clock speeds of this monster we find 1'190 MHz base clock and 1'291 MHz boost clock, whereas the NVIDIA reference cards run at 1000MHz/1075MHz, therefore there is a massive 20.1% factory overclock on the GPU.
As we already mentioned, Gigabyte decided to use a significant factory-overclock on their new GTX 980 Ti Gaming G1. While the reference GTX 980 Ti is set to work at 1000 MHz for the base clock and 1075 MHz for the GPU boost clock, the GTX 980 Ti Gaming G1 runs at 1'190 MHz base clock and 1'291 MHz boost clock.
When it comes to memory clock speeds we see a slight, 200 MHz frequency boost, which makes the chips run at 7200 MHz. Combine this with a 384 Bit memory interface and you end up with a total of 345.6 Gigabyte of memory bandwidth.
Whereas the typical boost clock is set at 1'317 MHz, the maximum boost of 1'404 MHz was achieved quite easily and the GTX 980 Ti Gaming G1 held that clock most of the load time due to the capable Windforce 3X cooler as well as good TDP target (nVidia's Boost technology being power-based and not temperature-based on this card).
Specifications
| | | | |
| --- | --- | --- | --- |
| | Gigabyte GTX 980Ti G1 Gaming | GeForce GTX 980Ti | GeForce GTX 980 |
| Chip | GM200-310-A1 Maxwell | GM200-310-A1 Maxwell | GM204 Maxwell |
| Process | 28 nm | 28 nm | 28 nm |
| Transistors | 8.00 billion | 8.00 billion | 5.20 billion |
| GPU clock | 1'190 MHz | 1'000 MHz | 1'126 MHz |
| GPU Boost clock | 1'291 MHz | 1'076 MHz | 1'216 MHz |
| Memory GDDR5 | 6'144 MB | 6'144 MB | 3'072 MB |
| Memory clock | 1'750 (7'010) MHz | 1'750 (7'000) MHz | 1'750 (7'000) MHz |
| Memory interface | 384 Bit | 384 Bit | 256 Bit |
| Memory bandwidth | 336'600 MB/s | 336'600 MB/s | 224'000 MB/s |
| Shader Cores | 2'816 | 2'816 | 2'048 (12 SMX) |
| TMUs | 176 | 176 | 128 |
| ROPs | 96 | 96 | 64 |
| TDP | 250 Watt | 250 Watt | 165 Watt |
| PCB Type | Custom | Reference Design | Reference Design |
| Slots | 2 | 2 | 2 |
| Cooler | WindForce 3X 600W | NVIDIA Reference | NVIDIA Reference |
| Launch Price | $749 | $649 | $599 |