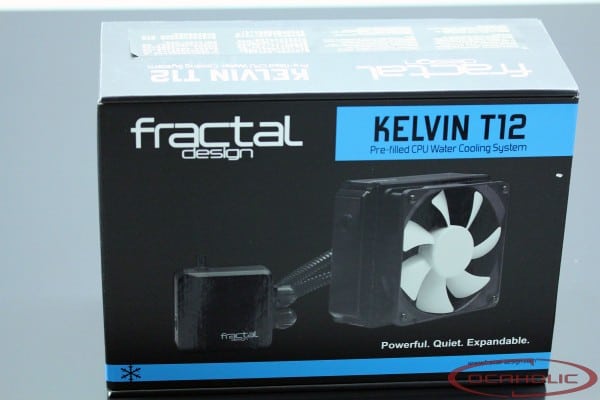 With the Kelvin T12, Fractal Design has a first all-in-one watercooler in its portfolio. In this case you can get an AiO with 120 millimeter copper radiator and two PWM fans for just 98 Euro. This makes us hope for lots and lots of cooling performance and overall we're more than just curious too see whether Fractal Design is capable of convincing us already with their first product in this market segment.
After reviewing the S36 as well as the S24 liquid cooling AiO systems from Fractal Design, today we have the pleasure to check out the smallest of the Fractal Designs three closed-loop coolers. This one goes by the name Kelvin T12, and according to Fractal Design, it is compatible even with small cases and tight spaces thanks to its 163mm x 132mm x 46mm radiator. This particular 120mm radiator is quite a bit thicker than other 120mm models, since they usually measure either 27mm or 30mm. The increased thickness should provide increased performance while compromising compatibility if there should be a very small case you'd like to install this cooler in. In addition to a custom radiator, the Kelvin T12 also comes with kink-resistant tubing, which allows for better routing, even in very small cases. Overall, this cooler is well made and with its black and white color scheme it should be easily integrated into the design scheme of lots of system builds. The bundle includes two 120mm PWM fans with white wings and black frame placed in a push-pull configuration. The mounting system supports most, if not all, modern Intel and AMD socket CPUs.
If you wonder which company is actually the OEM behind this cooler, then we can tell you the Kelvin series is actually Fractal Design's first liquid cooler where the pump, radiator as well as CPU water block are made by Alphacool.
| | | |
| --- | --- | --- |
| | | |
As you can see from these pictures above, the manufacturing quality of the Kelvin T12 is on the level which is suitable for a product in this class. It is not exceptional but still on the level you'd expect from a 100 Euro all-in-one liquid CPU cooler. The radiator itself has been made from copper and there is the usual the usual oval/flat pipes, which increase the surface area. The cooling block features a thin copper base-plate with micro channel structure, while thermal compound comes separately in a 1g syringe which is enough for several applications. As we already mentioned the dimensions of the Kelvin T12 are 132mm x 46mm x 163mm (W x H x D) without fans. According to the specifications, Fractal Design equipped the Kelvin T12 with two high RPM fans made by Fractal Design. In the case of the sample we received, these fans were spinning with a maximum speed of 1800 RPM.
Specifications

Model

Kelvin T12

Type
AIO WaterCooler
Dimensions
163 x 132 x 46 mm (LxBxW)
Weight
1.7 kg
Provided Fan(s)
2 x 120 x 25mm PWM (800-1700 ± 150 RPM)
Supported Fan(s)
2 x 120mm
Base Material
Copper
Radiator Material
Copper
Tube
Rubber Tubing with anti-kink coils
Socket Support
Intel LGA 1150, 1155, 1156, LGA 1366, 2011
AMD AM2(+), AM3(+), FM1, FM2, FM2+
Thermal compound
Fractal Design Zero 1g Syringe
Product Page
Kelvin T12
The packaging is quite standard for an all-in-one liquid cooling system. Along side the main AIO unit, you receive two fans, a manual, mounting kits and a 1g syringe of Fractal Design Zero thermal paste. Fractal Design bundles the Kelvin T12 with two mounting kits, one for AMD sockets and one for Intel-based systems, as well as a backplate which is meant to be used for Intel sockets. The Fractal Design Kelvin T12 is not compatible with the, now rather old, Intel socket LGA775.