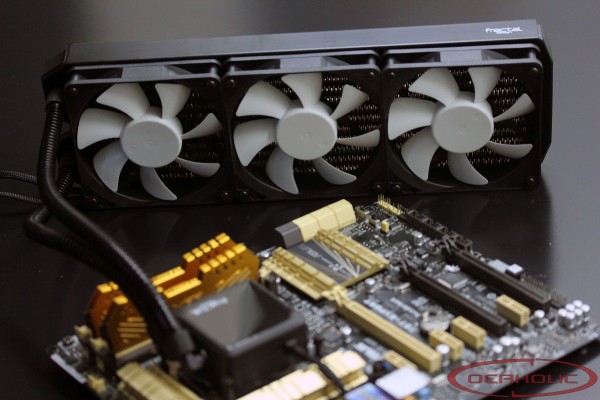 With the Kelvin S36, Fractal Design has a first all-in-one watercooler in its portfolio. In this case you can get an AiO with 360 millimeter copper radiator and three PWM fans for just 135 Euro. This makes us hope for lots and lots of cooling performance and overall we're more than just curious too see whether Fractal Design is capable of convincing us already with their first product in this market segment.
Fractal Design is famous especially for making great cases and next to that the manufacturer also has fans and power supplies in its portfolio. Lately the Swedish company decided to add a complete series of all-in-one watercoolers to their line-up and today we're having a look at their flagship model, which is called Kelvin S36. This particular model features a 360 millimeter radiator made by Alphacool and consisting from copper entirely. Checking on the dimensions we find the S36's radiator measuring 397 mm in lenght and apart from that the unit is 30 mm thick. 30 millimeter actually makes this a "slim" radiator, which bears the benefit, that you can install it in almost any case, which supports triple radiators. A closer look at the CPU Water Block reveals that it's also been milled from copper. Overall this AIO is well made and it looks nice and clean. The bundle includes three 120 mm PWM fans with white wings and black frame. Mounting system supports most, if not all, recent Intel and AMD socket CPUs.
The Kelvin S36 is actually Fractal Design's first liquid cooler and the Pump, radiator as well as CPU water block are made by Alphacool.
As you can see from the picture, manufacturing quality of the Kelvin S36 is on the level it should be. It's not exceptional but still on good level for a 135 Euro all-in-one cooler and a radiator this big. The latter actually measure 397 x 30 mm and is made from copper. The tubes are fitted with anti-kink coils to avoid too tight bending angles. In the water block we find a pump with ceramic bearing as well as a copper base plate and on top of that the pump is adjustable via the PWM signal. The fans included in the delivery feature the typical Fractal Design colors, which are black and white. Furthermore they measure 120 x 25 mm and rotation speeds are between 800 and 1700 rpm. Maximum airflow is advertised at 62.4 CFM.
Specifications

Model

Kelvin S36

Type
AIO WaterCooler
Dimensions
397 x 124 x 30mm (LxBxW)
Weight
1895 g
Provided Fan(s)
3 x 120 x 25mm PWM
Supported Fan(s)
6 x 120mm
Base Material
Copper
Radiator Material
Copper
Socket Support
Intel LGA 1150, 1155, 1156, LGA 1366, 2011
AMD AM2(+), AM3(+), FM1, FM2, FM2+
Thermal compound
Zero Thermal Paste 1g syringe
Product Page
Kelvin S36
The packaging is standard for an all-in-one water cooling system. Alongside the AIO unit you get three fans, a manual and mounting kits. Fractal Design bundles the Kelvin S36 with two mounting kits, one for AMD and one for Intel-based systems, as well as two backplates for both AMD and Intel sockets. The manufacturer also includes a syringe containing 1 gramm of  thermal compound, which is enough for multiple application. We could also found a PWM splitter cable, which is always a useful thing to find in the delivery. Furthermore this all-in-one cooler is compatible with almost any socket from Intel and AMD. If anything should break down with the Kelvin S36 AIO water cooler you get a warranty that covers such event for two years.