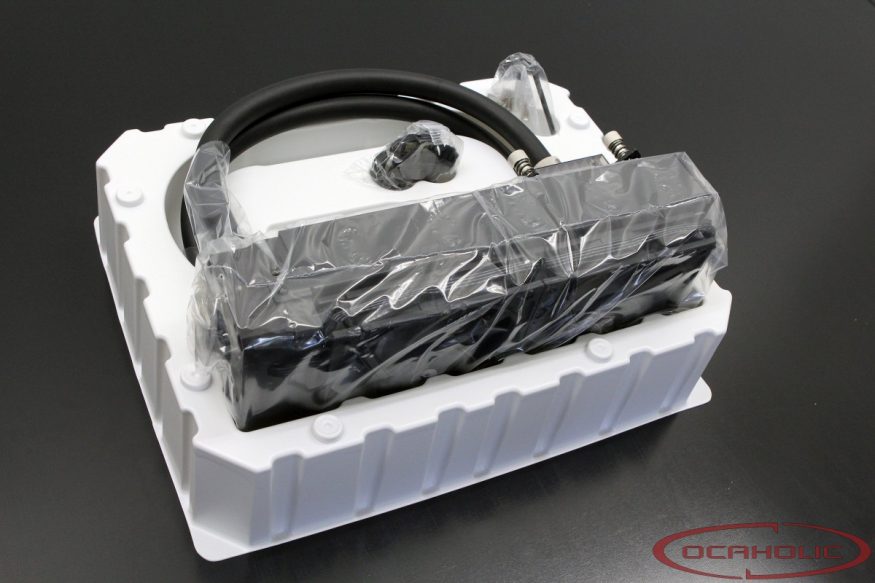 With their Predator 240 EK Water Blocks have a pre-assembled watercooling unit in their portfolio, which is entirely based on custom parts from their extensive line-up. This makes the Predator 240 powerful and at the same time easily expandable. At this point we're very curious to find out how this watercooler performs and wheter it's a convincing product or not.
Today we have the pleasure of checking out the EK Water Blocks Predator 240 pre-assembled and expandable liquid cooling system, which should be perfectly suitable for powerful gaming PCs or rigs which need good cooling and decent temperatures. With this pre-assembled kit EK basically went through their portfolio and took a 240mm CoolStream PE radiator, two Vardar F4-120ER fans, a DDC PWM controlled pump, their Supremacy MX CPU block and their ZMT industry grade tubes as well as suitable fittings. Apparently they had to make everything fit in order to give useres the all-in-one experience while mainting simple expandability. On one end of the radiator there is a small reservoir which features the integrated DDC pump. This makes the unit quite a bit longer than other AiOs and since the radiator is thicker than your usual all-in-one as well, this is not a small pre-assembled system. In the end this means, that you'll get a very well performing watercooling system but at the same time you need to check whether there is enough space in your case to install it.
As it can also be seen on the pictures, the manufacturing quality of the Predator 240 is quite impressive. EK Water Blocks decided to go for high quality components as well as materials. The Predator 240 measures a whopping 295 x 133 x 68 mm. The radiator has been made from aluminum using copper fins and the Supremacy MX CPU block is made from copper as well radiator made from aluminium and a water block with an integrated pump and reservoir mounted on top of them. If you plan on expandind the loop or if you want to change the tubes you'll have to refill the loop and for that purpose you find two fill ports, where one has been integrated into the reservoir and the other is on the opposite side of the radiator. EK is bundling the Predator 240 with their high-end Vardar F4-120ER fans, which feature high static pressure, are PWM-controlled and support operation speeds from 500 to 2200 RPM. Both fans come with four pin headers and are connected to a daughter board. Also connected to that daughter board is the PWM-controlled DDC pump. This makes it very easy to make the Predator 240 run silent.
Specifications

Model

EK-XLC Predator 240

EK-XLC Predator 360
Type
Pre-assembled, expandable All-in-One Watercooler
Pre-assembled, expandable All-in-One Watercooler
Dimensions
295 x 133 x 68 mm (L x W x H)
415 x 133 x 68 mm (L x W x H)
Provided Fan(s)
2 x EK-Vardar F4-120ER Predator Edition
3 x EK-Vardar F4-120ER Predator Edition
Supported Fan(s)
4 x 120 mm
6 x 120 mm
CPU Block base plate Material
Copper
Copper
Radiator Material
Aluminium caseing, copper fins
Aluminium caseing, copper fins
Tube
ZMT Tube
ZMT Tube
Socket Support
Intel LGA 1150, 1151, 1155, 1156, 2011 (-3)
Intel LGA 1150, 1151, 1155, 1156, 2011 (-3)
Thermal compound
EK-TIM Ectotherm 1g
EK-TIM Ectotherm 1g
Product Page
EK-XLC Predator 240
EK-XLC Predator 360
The bundle is pretty compact, since this watercooler is only compatible with Intel sockets. Apart from that, most of the mounting kit is pre-assembled, which doesn't leave a of small parts for additional plastic bags. There is basically a back-plate, fan screws, thermal compound and a power cable with SATA connector.