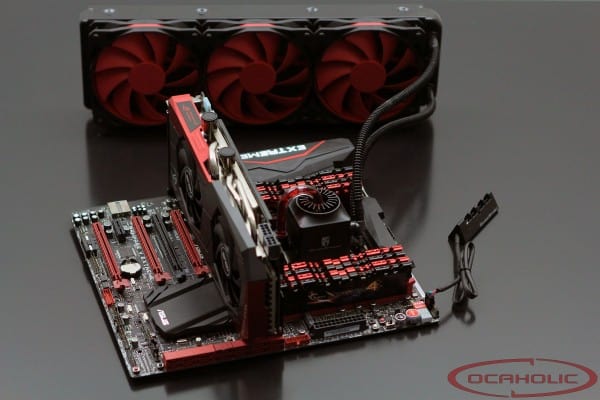 With the Captain 360, Deepcool has yet another all-in-one watercooler in its portfolio. In this case you can get an AiO with 360 millimeter radiator and three PWM fans for 139.99 USD. This makes us hope for lots and lots of cooling performance. Apart from that Deepcool told us that the pump noise has been reduced significantly, which means that this is potentially an excellent AiO.
Today we have the pleasure to check out Deepcool's Captain 360 liquid cooling system, which, according to Deepcool, should be compatible even with medium size cases and tighter spaces thanks to its 395 mm tall and 32 mm thick 360 mm radiator. Nevertheless, compared to other 360 millimeter AiOs, this one is five millimeter thicker, which helps to improve the performance a little more. Apart from that there are kink-resistant tubes, which allow for routing within smaller cases and tighter spaces. Overall this cooler is well made and it looks nice and clean. The most unique feature about it is probably the color, as it features matte black with red accents which is something we have not seen with this type of cooler before. The build quality is also on a really high level. The bundle includes three 120 mm PWM fans with red wings and black frame. Mounting system supports most, if not all, recent Intel and AMD socket CPUs.
The Captain 360 is actually Deepcool's new liquid cooler design which is not based on CoolIT design, we think that Captain 360 is designed and manufactured by Asetek OEM but also about that we're not completely sure.
As you can see from the picture, manufacturing quality of the Captain 360 is on the level it should be. It's not exceptional but still on good level for a 139 USD all-in-one cooler. The radiator measures 360 x 32 mm and is made from aluminium. The cooler itself features a copper coldplate with pre-applied thermal compound. To be a bit more precise the dimensions of the Captain 360 are 395 x 120 mm x 32mm (W x L x H). The fans also come with a new design that works well with the rest of the Captain 360 AIO cooler. Deepcool decided to pair the Captain 360 with three 120x25mm GF120 fans, with nine red blades, which can spin with 600 to 2200 rpm.
Specifications

Model

Captain 360

Type
AIO WaterCooler
Dimensions
395 x 120 x 32mm (LxBxW)
Weight
1627g
Provided Fan(s)
3 x 120 x 25mm PWM
Supported Fan(s)
6 x 120mm
Base Material
Copper
Radiator Material
Aluminium
Tube
Fep Tubing
Socket Support
Intel LGA 1150, 1155, 1156, LGA 1366, 2011
AMD AM2(+), AM3(+), FM1, FM2, FM2+
Thermal compound
Pre-applied
Product Page
Deepcool Captain 360
The packaging is standard for an all-in-one water cooling system. Alongside the AIO unit you get three fans, a manual and mounting kits. Deepcool bundles the Captain 360 with two mounting kits, one for AMD and one for Intel-based systems, as well as a backplate which is compatible with both AMD and Intel sockets. Deepcool Captain 360 is not compatible only with the old Intel socket LGA775. If anything should break down with the Captain 360 AIO water cooler you get a warranty that covers such event for two years.