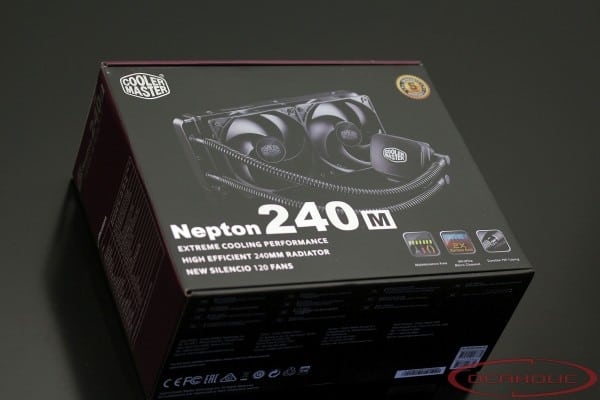 With the Nepton 240M, Cooler Master has an all-in-one watercooler in its portfolio, that comes with a rather slim radiator and two 120 millimeter fans in the delivery. At a first look the design is looking good while you get a completely black solution. Overall we're now rather curious to find out what this cooler can do in terms of cooling and noise levels.
Today we have the pleasure to check out Cooler Master's Nepton 240M compact liquid cooling system, which, should be compatible with small cases and tighter spaces thanks to its 274 mm long, 27mm slim and 119mm wide radiator. This particular 240mm radiator is slightly slimmer than other 240mm models, since it's only 27mm thick. This helps saving a few millimeters and might allow the installation in cases, which otherwise could not be equipped with an all-in-one watercooler. Apart from that there are kink-resistant FEP tubes, which allow for tight bending radius. Overall this cooler is well made and with its completely black color scheme it's easy to integrate into the design scheme of lots of different builds. The bundle includes two 120mm PWM fans, which are entirely black too. The mounting system supports most, if not all, recent Intel and AMD sockets. When it comes to manufacturing Cooler Master is very proud on the fact they're making every single piece on their own.
| | | |
| --- | --- | --- |
| | | |
As you can see from the pictures above manufacturing quality of the Cooler Master Nepton 240M is on the level it should be. It's not exceptional but it's still on a decent level for a 90 Euro all-in-one cooler. The radiator itself has been made from aluminium and there are the usual flat pipes, which increase surface area. The cooling block features a copper base-plate, which is surprisingly rough. We would like to see Cooler Master polish the base plate. Thermal compound has not been pre-applied, which is always a good thing, since the paste delivered in syringes is usually of higher quality. To be a bit more precise the dimensions of the Nepton 240M are 274 mm x 27 mm x 119mm (LxHxW). According to the specifications Cooler Master equipped the Nepton 240M with two PWM fans, which spin with 800 to 2400 RPM.
Specifications

Model

Nepton 240M

Type
AIO WaterCooler
Dimensions
274 x 119 x 27 mm (LxBxW)
Provided Fan(s)
2 x 120x25mm PWM (800 – 2400 ± 10%)
Supported Fan(s)
4 x 120mm
Base Material
Copper
Radiator Material
Aluminium
Tube
FEP Tubing
Socket Support
Intel LGA 775, 1150, 1155, 1156, LGA 1366, 2011
AMD AM2(+), AM3(+), FM1, FM2, FM2+
Thermal compound
Syringe
Warranty
5 Years
Product Page
Nepton 240M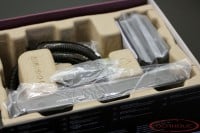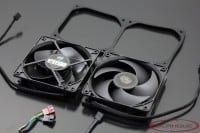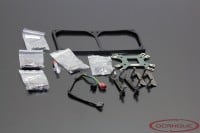 The packaging is quite standard for an all-in-one water cooling system. Alongside the AIO unit you receive two fans, a manual and mounting kits. Cooler Master bundles the Nepton 240M with two mounting kits, one for AMD and one for Intel-based systems, as well as a backplate is used for Intel sockets. The Cooler Master Nepton 240M is even compatible with the old Intel socket LGA775. If anything should break down with the Nepton 240M AIO water cooler you get a warranty that covers such event for a whopping five years.