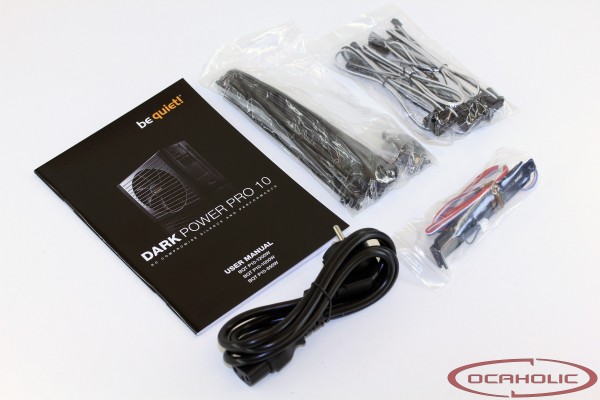 With the Dark Power Pro 10 850W BeQuiet offers a high end 850W PSU that achieved the 80 Plus Platinum certification. Its insides come from Seasonic (OEM), which certainly can be considered as a plus while the suggested retail price is set at 220 CHF, roughly 183 Euro.
The new be quiet! Dark Power Pro 10 comes packed in a quite eye-catching box that easily shows all its features while the packaging itself is perfect as the PSU is well protected by plenty of foam. Modular cables are placed in a separate cardboard box.
The bundle is as you would expect from a PSU in this class. It features fan header cables, velcro straps, zip ties, screws, manual, power cable and a bracket with the "overclocking key" switch which we will talk about in detail a bit later in the review.
The unit (PSU) itself is well built and you can see the high manufacturing quality even from the picture. Of course, no less was expected from be quiet! and the PSU in this range. The unit also comes with a rubber end caps that should help with isolating any vibrations coming from the PSU and it features quite a unique be quiet! fan grill. The fan below it is the Silent Wings P10, model BQT T13525-XF20,  a 135mm fan rated at 0.38A and 2000RPM. The unique feature is an ability to connect and regulate up to four case fans directly via the Dark Power Pro 10 850W PSU.