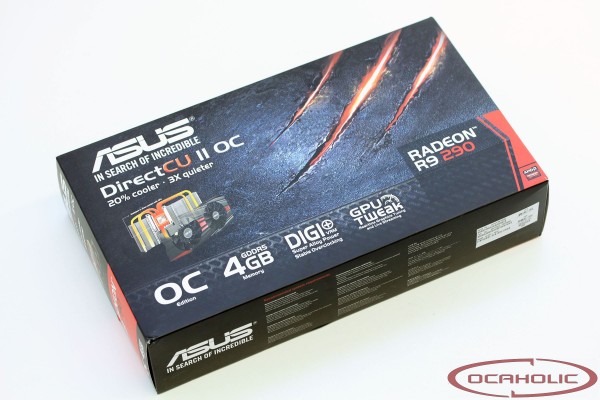 There are quite a few custom Radeon R9 290 graphics cards available meanwhile and today we are going to have a look at the ASUS one, the Radeon R9 290 DirectCU II OC. The Radeon R9 290 version is no different from other high-end DirectCU II cards from the manufacturer, you don't change a formula that works. The R9 290 DirectCU II OC features a custom PCB with a beefed up power design and is chilled by the latest version of the DirectCU II cooler. Other than the obvious the card has a factory overclocking on both the core and memory as well as a BIOS DIP switch allowing users to choose between a silent or a performance operation.
The new ASUS Radeon R9 290 DirectCU II OC graphics card features a custom PCB design, which received a beefed up power design, the quite famous DirectCU II cooler as well as a decent factory overclock. At a first glance it looks like the new R9 290 DirectCU II OC shares the same cooler as the R9 290X and the GTX 780 Ti DirectCU II series while the PCB is similar to the one on the R9 290X DirectCU II series, which are definitely good starting points.
Since this is the DirectCU II OC version of the ASUS Radeon R9 290 series, the graphics card comes with a decent factory overclock. While the reference AMD Radeon R9 290 GPU is set to work at up to 947 MHz, the ASUS DirectCU II OC one works at 1'000 MHz. ASUS also decided to overclock the GDDR5 memory on its card from 1'000 MHz (4'000 MHz effective) to 1'260 MHz (5'040 MHz effective).
During our testing the ASUS Radeon R9 290 DirectCU II OC held 1'000 MHz most of the time while being under load. We have only experienced downclocking when running FurMark, where the GPU clock was going down to to 920 MHz with the temperature increase. We did not notice any throttling while gaming which is a very good point for the custom ASUS card compared to the reference cards which were throttling most of the time.
Specifications
| | | | |
| --- | --- | --- | --- |
| | ASUS Radeon R9 290 DirectCU II OC | Radeon R9 290X | Radeon R9 280X |
| Chip | Hawaii Pro | Hawaii XT | Tahiti XT2/L |
| Process | 28 nm | 28 nm | 28 nm |
| Transistors | 6.20 billion | 6.20 billion | 4.31 billion |
| GPU clock | 1'000 MHz | up to 1'000 MHz | 1'000 MHz |
| Memory GDDR5 | 4'096 MB | 4'096 MB | 3'072 MB |
| Memory clock | 1'260 (5'400) MHz | 1'250 (5'000) MHz | 1'500 (6'000) MHz |
| Memory interface | 512 Bit | 512 Bit | 384 Bit |
| Memory bandwidth | 322.6 GB/s | 320.0 GB/s | 288 GB/s |
| Shader Cores | 2'560 | 2'816 | 2'048 |
| TMUs | 160 | 176 | 128 |
| ROPs | 64 | 64 | 32 |
| PCB Type | Custom Design | Reference Design | Reference Design |
| Slots | 2 | 2 | 2 |
| Cooler | DirectCU II | AMD Reference | AMD Reference |