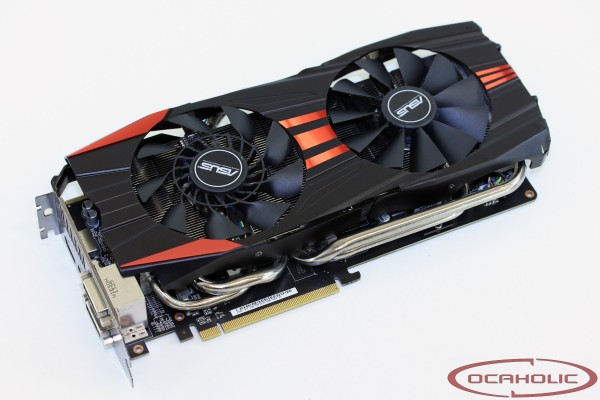 With their Radeon R9 280X DirectCU II, ASUS has an interesting graphics card in its portfolio, which features their capable DirectCU II cooler. In the following article we're going to find out what difference a full-cover water block can make when put on this very card. In this regard we're having a look at the new EK-FC R9-280X DCII waterblock and it will be interesting to see what is going to be possible with this block on a R9 280X DCII.
As we already mentioned, in this article we're going to have a closer look at the possible differences between a watercooled and an aircooled ASUS R9 280X DirectCU II. For this purpose EK Water Blocks shipped us one of their brand new EK-FC R9-280X-DCII fullcover waterblocks. First of all we're going to have a closer look at both, the water as well as the aircooler and afterwards we will run both cards through our set of recent games with stock clocks as well as overclocked to the coolers specific maximum. Apparently we will also show you some temperatures.
ASUS R9 280X Direct CU II – Watercooling EK-FC R9-280X-DCII
EK Water Blocks is the first company to come up with a custom, full-cover waterblock for ASUS' R9 280X DirectCU II graphics card. The block establishes direct contact to GPU, memory as well as VRM area. This way you can be sure there is going to be best possible cooling whereever it's needed. The cooler EK Water Blocks provided us with has been made from nickel plated electrolyte copper. Above the GPU there is a thin channel structure to provide additional surface area, where it actually makes sense to have it. On top of the cooper block there is a plexi cover and on the right hand side you can see a brushed stainless steel plate. Looking for threads we find G1/4" inch one's where you can attach a vast majority of fittings. The threads have been cut into black POM acetal, which is a rather hard plastic material. Nevertheless it's enough to tighten fittings by hand to achieve sufficient sealing and you don't have to use a gripper. In fact by using a gripper you can break the plastic. Manufacturing quality on EK products is exceptional. These blocks are just perfectly made and the looks are breathtaking. The big picture above shows the cooler with blue coolant inside. In case of an ASUS ROG graphics cards you might certainly want to use red die, but in order to show the effect blue does the job perfectly well too.
For this card EK Water Blocks also provide a back-plate, which is kept completely in black and suits perfectly to the overall design. If there is a backplate as well as the full-cover block from EK the card looks simply great in the end.
ASUS R9 280X Direct CU II – Aircooling DirectCU II
This version of the DirectCU II cooler comes with no less than five heatpipes, which feature a GSG shape. There is one heatpipe with a massive diameter of ten millimeter and other than there are two more with eight millimeter diameter and another two which measure six millimeters. The heatpipes have been nickel plated and are in direct contact with the GPU core. Soldered to the heatpipes you find the fin stack which is being provided with fresh air via two 95mm fans. The fan closer to the I/O shield is a hybrid axial/radial fan ASUS like to call "CoolTech". They claim that this fan is able to provide a higher airflow than standard axial or radial fans at the same noise level. In case of the second fan you find a standard axial fan. Both fans are being manufactured by Everflow and strangely share the same model name, T129215SU. Overall the cooler is well made and the finish is on a very reasonable level too.
This cooler definitely plays in another league than the reference cooler from AMD. But still, even this custom aircooler is just about able to not make the 280X throttle at stock clocks.