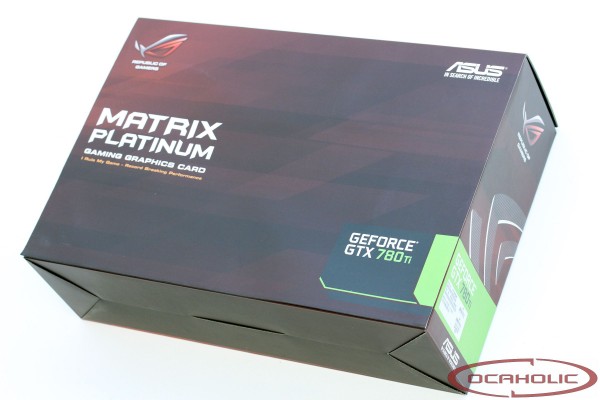 Today ASUS lifted the NDA for two new Matrix graphics cards. One of them is based on AMDs recent high-end chip and the other, which we're looking at right now, features a NVIDIA GeForce GTX 780 Ti core. Furthermore this new high-end card comes with a shedload of features, which not only interesting for gamers but also for overclockers. At this point we're now really curious to find out what these cards can do in our review.
ASUS has recently announced its newest ASUS ROG MATRIX GTX 780 Ti Platinum Edition graphics card and today we have a chance to check out if the the new ROG MATRIX graphics card can live up to its name and the level of both performance and manufacturing quality expected from a Republic of Gamers MATRIX edition graphics card.
As you can see from the GPU-Z screen below, ASUS' ROG MATRIX GTX 780 Ti packs Nvidia's 28nm GK110B GPU with 2880 CUDA cores, 240 TMUs and 48 ROPs and features some quite decent factory overclock. While the reference GTX 780 Ti sticks to 875MHz for the base GPU and 928MHz for the GPU Boost clock, the ASUS ROG MATRIX GTX 780 Ti works at 1006MHz GPU base clock and 1072MHz GPU Boost clocks while 3GB of GDDR5 memory paired up with a 384-bit memory interface ended up clocked at reference 7000MHz.
As expected, the ASUS ROG MATRIX GTX 780 Ti promises 13 percent better peformance out of the box and comes packed with features aimed at enthusiasts, overclocked as well as those looking to get best possible piece of hardware and graphics card based on Nvidia GTX 780 Ti GPU.
Specifications
| | | | |
| --- | --- | --- | --- |
| | ASUS GeForce GTX 780 Ti Matrix Platinum | ASUS 780 Ti DC2OC | GeForce GTX 780 Ti |
| Chip | GK110-425-B1 | GK110-425-B1 | GK110-425-B1 |
| Process | 28 nm | 28 nm | 28 nm |
| Transistors | 7.10 billion | 7.10 billion | 7.10 billion |
| GPU clock | 1'006 MHz | 954 MHz | 875 MHz |
| GPU Boost clock | 1'072 MHz | 1'020 MHz | 928 MHz |
| Memory GDDR5 | 3'072 MB | 3'072 MB | 3'072 MB |
| Memory clock | 1'750 (7'000) MHz | 1'750 (7'000) MHz | 1'750 (7'000) MHz |
| Memory interface | 384 Bit | 384 Bit | 384 Bit |
| Memory bandwidth | 336'000 MB/s | 336'000 MB/s | 336'000 MB/s |
| Shader Cores | 2'880 (15 SMX) | 2'880 (15 SMX) | 2'880 (15 SMX) |
| TMUs | 240 | 240 | 240 |
| ROPs | 48 | 48 | 48 |
| PCB Type | Custom Design | Custom Design | Reference Design |
| Slots | 2 | 2 | 2 |
| Cooler | DirectCU II | DirectCU II | NVIDIA Reference |